We are proud to announce that MV Frisian Sea is the first vessel that has an by Lloyds Register approved EEXI Calculation and Technical file. The Technical file is prepared by Conoship. For all parties involved this was the first appraisal of an EEXI Technical file. The calculated EEXI describes the CO2 emissions per cargo ton per mile. So it is related to transport capacity, installed engine power and ships speed. The achieved energy efficiency of MV Frisian Sea is way better than the required baseline, even without the VentiFoils in place. The attained index is about 22,6% better than required Phase 3 !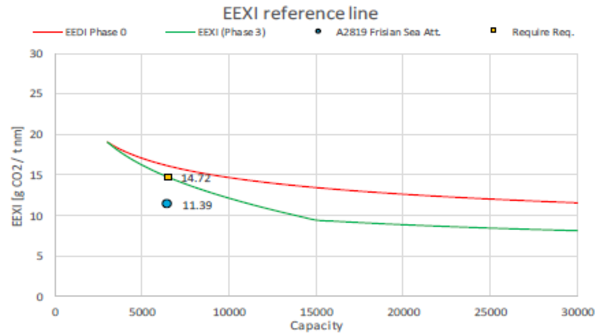 The Energy Efficiency Existing Ship Index (EEXI) is required to be calculated for ships of 400 GT and above, in accordance with the different values set for the ship types and size categories. This indicates the energy efficiency of the ship compared to a baseline. Vessels are required to meet a specific required EEXI, which is based on a required reduction factor (Expressed as a percentage relative to the EEDI baseline).
With implementation of the EEXI, the issuance of a new International Energy Efficiency Certificate (IEEC) is required for each vessel. This certificate refers to the EEXI Technical File which contains general information on the ship, the calculation of the EEXI value attained and required, and copies of the documents from which the values applied for the EEXI calculation are taken. The EEXI Technical File must be submitted to class in time for approval and is required to be carried on board afterwards.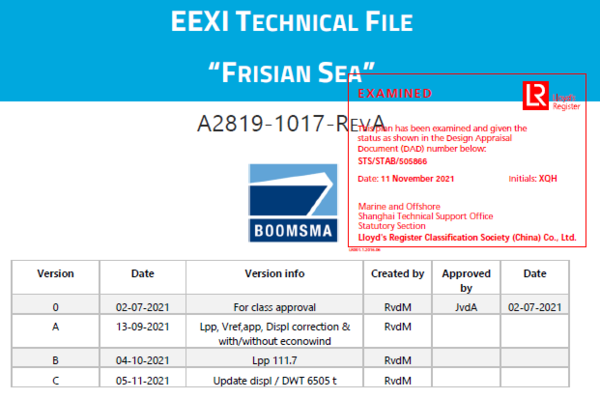 Click on image below to view our LinkedIn page: